For our Berlin meetup #2 we were lucky enough to be invited back to the hip event location SUPERMARKT Berlin.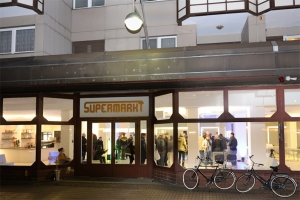 The founders really liked our kick-off in February and agreed to sponsor the location with its super sized rooms, well-sorted bar and friendly team regularly. A big thank you to this amazing gift to our growing Berlin community of visual thinkers!!
On April 2, over 40 professionals from a huge variety of backgrounds came together again, this time to explore the power of symbols with expert Sven Kröger from TheGraphicalRecorder.net.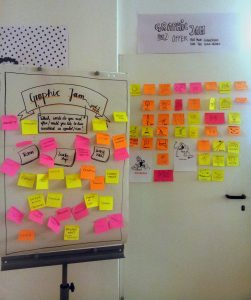 "But… I can't draw!!" must be the single most exclaimed fear when it comes to translating the complex pictures in our heads onto a piece of paper (or a piece of electronics for that matter). This is exactly the reason why we start our evenings with a "get your hands dirty" warm-up, inviting the participants to leave their artistic standards aside for a moment and just do it. This time, we had a Graphic Jam. Participants got to write down the words they need on a daily base and which they'd like visualized. In the next step, everyone chose a word from this pool of desires and had a go and translating it into a symbol.
Next to the usual suspects like "future", "process", "partnership", "community" or "research"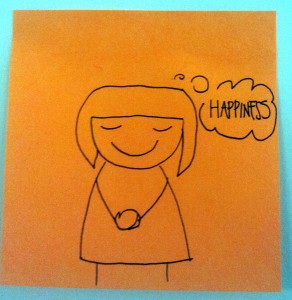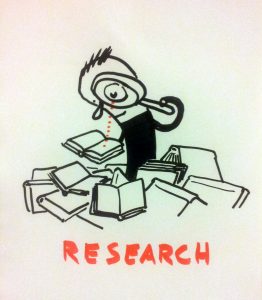 we also had more exotic wishes like "panic", "catastrophe", "Stulle" or "daring".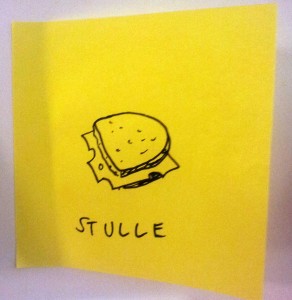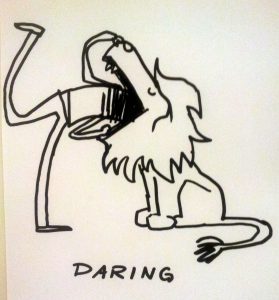 After everyone had a symbol, a drink and a seat we wanted to know who's here. In the as very popular declared "wanted-poster" style from the first meetup we interviewed our neighbors and surprised ourselves once more with the amazing diversity of talents in the room. From opera singer to panic attack therapist, professor for design to teacher and public transport strategist, from user experience designer to democracy workers, media and love coaches all the way to "rheinische Frohnatur" – it was all there for a networking frenzy.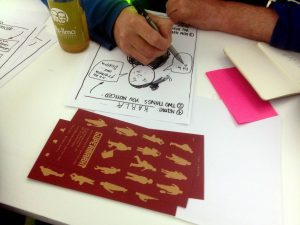 Another highlight apart from this "gallery of heroes" and their wide competency spectrum was Sven's talk about his do's and don'ts in working with symbols. What, for instance, do the Swiss flag and First Aid have in common? Yes, of course, the symbol! Sven stresses how important it is to consider the context and that this leads content. Symbols are very powerful and we better make sure to consider the perspectives and associations of our client. Can I draw the color of skin? May I use the Swastika symbol of the Nazis in an anti-Nazi campaign (no, you may not!! it's legally prohibited to depict it at all!!!). Ok, such questions seem very specific and they should not keep us from making a quick first draft for any situation we are to visualize. But they should help us to be observant and respectful towards our client and their needs. To apply this, we started with a simple exercise quickly drawing as many symbols as we could regarding the relatively danger-free theme of communication.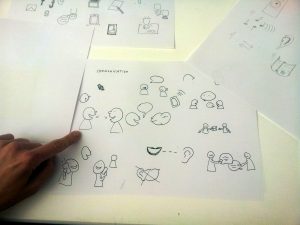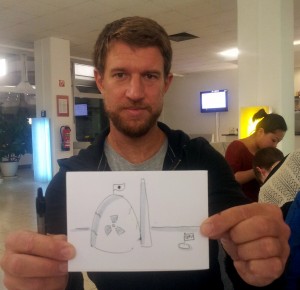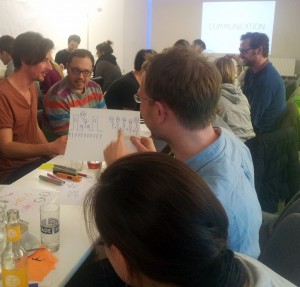 But even this resulted in heated discussions in the next step where, in small groups, the 3 best out of this super pool of possibilities had to be chosen. Which criteria do you apply to make such choice? Clarity? Recognition? Artistry??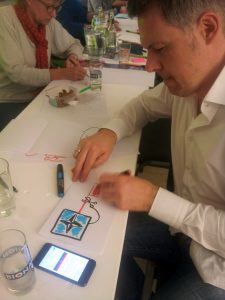 In his next exercise, Sven definitely caught the attention of the more advanced visitors in which we were to visualize news headlines such as "NATO suspends Russia co-operation" or "The last episode of 'How I met your mother' screened in the US" (without ever having even seen it, how would I interpret it?). But even beginners who initially were startled by the task, dared to go on and do their best. And indeed, it's such a great start to research how others do it, google pictures and copy, copy, copy! Once we are prepared to let go of our desire to be unique and "arty", we can concentrate on the very objective of visualization: getting the point across.
Talking about interpretation and getting a point across. Do you remember playing Chines Whispers (Stille Post) as a child?? That was the last exercise Sven had prepared for us and the one that left not too many eyes dry.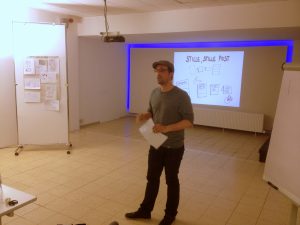 Imagine this: you think of a sentence, write it down on A4 piece of paper and pass it on to your neighbor. The neighbor visualizes your sentence, folds the piece of paper so that the sentence with words is no longer visible and passes it on to their neighbor. This person interprets the picture a 2nd time with their own visuals, folds it again and passes it on to their neighbor.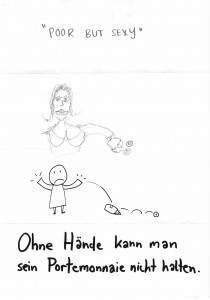 In a last step, the 2nd visualized interpretation gets re-translated into words. The results were hilarious and we laughed tears!!! A few examples, so you can join the laughter:The initial expression "poor but sexy" became "without hands you cannot hold your wallet"; or from "follow the rabbit" to "even a mute rabbit leaves a trail". But surprisingly many got it quite right and stayed at least vaguely with what had been expressed originally – well done!!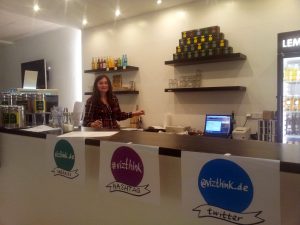 After so much fun we networked some more over drinks from the bar. Apparently this part of the evening is not to be missed since Gabriel and his team from KS12 dropped by just for that (nice to know they missed us so much!).
PS: All the photos from vizthink Berlin #2 are here at our new vizthink.de Flickr group and Sven's presentation here.
PPS: Save the date: our next vizthink Berlin meetup will be on 4th ofJune at SUPERMARKT Berlin. And… Gabriele Schlipf from Momik just confirmed that she'll try again, she'll block her calendar and she'll be talking about "Visual Grammar". But if you can't wait that long, the Hamburg team has a meetup on 14th of May about visual biographies.